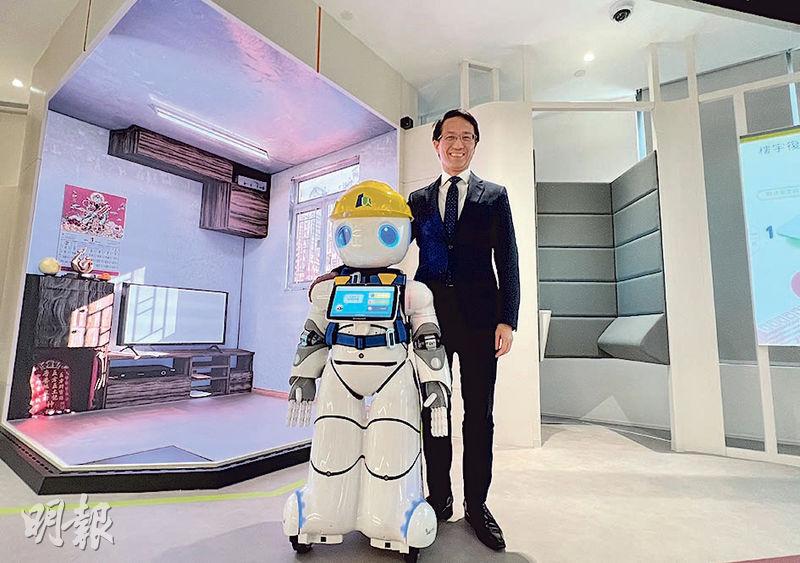 Set up 4 exhibition areas in 3D to present the consequences of disrepair
Li Wenhao, General Manager (Building Rehabilitation) of the URA, said that the "Building Rehabilitation Platform" established by the URA in 2019 allows citizens to obtain relevant information online. However, considering that most elderly people may not know how to use technology, a resource center was established , "Physical support is more convenient for them", and described that the center and platform services complement each other.
The "Building Rehabilitation Resource Center" is located in the Huan Yan Ju shopping mall in To Kwa Wan, with an area of ​​about 7,500 square feet. It has 4 exhibition areas, including "Engineering Knowledge" and "Financial Reserve", to introduce information on building maintenance and engineering in digital form, and URA's various funding programs and support services, etc., among them, some exhibition areas use 3D perspective images to present the serious consequences of lack of maintenance and continuous aging and disrepair of buildings, including large-scale falling of concrete from the ceiling, so as to improve the public's awareness of timely maintenance and maintenance vigilance. The center has conference rooms and mediation rooms, which are open to building owners and owners' organizations for free, with a maximum capacity of 200 people.
You can apply for funding on the spot to reduce the risk of filling in mistakes
In addition, the center has a consultation room where members of the public can use voice or video to inquire about maintenance subsidy schemes with staff; two "video consultation service rooms" are also set up for on-site application for relevant subsidy schemes through video services. URA Manager (Building Rehabilitation) Huang Juhua said that the service director of the Cheung Sha Wan Office, which handles building maintenance, will talk to applicants remotely to help them fill out the online application form and submit their identity certificates and related documents. The bureau can immediately verify the information to speed up the processing process, and at the same time reduce application delays caused by applicants entering wrong information or missing documents.