[ad_1]

Israeli forces launched air strikes in central Gaza early Thursday, hours after announcing they had intercepted rockets fired from Palestinian territory, according to journalists and eyewitnesses.
New rockets were fired from Gaza after the strike and new explosions were heard in Gaza City at around 3:15 a.m. local time, AFP reporters reported.
In a statement issued at 2:41 a.m., Israeli forces confirmed that they were "attacking Gaza".
The first of at least seven attacks hit the training center of the Ezzedine al-Qassam Brigades, an armed wing of the Palestinian Islamic movement Hamas, according to local security sources and eyewitnesses. The center is located in the al-Magazi refugee camp in central Gaza.
According to local security sources, the second Israeli airstrike targeted the al-Qassam Brigade's training camp southwest of Gaza City.
After the first airstrike, an AFP reporter saw two more rockets fired from Gaza into Israel, and witnesses said several more rockets were fired from multiple locations.
The Israeli military said in a statement that the warplanes "attacked production facilities for the production, preservation and storage of raw chemicals along with weapons manufacturing facilities" belonging to Hamas.
The airstrikes were carried out in response to rocket launches from Gaza into Israel on Wednesday.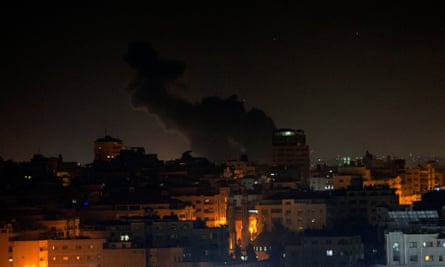 The Gaza Strip, with a population of 2.3 million, has been under Israeli blockade since Hamas came to power in 2007.
The People's Front for the Liberation of Palestine (PFLP), a secular Palestinian militant group, said earlier Thursday that it fired a rocket salvo at Israel in response to airstrikes and "organized attacks" on Palestinian prisoners being held in Israeli jails.
Earlier on Wednesday, Israel's National Security Minister Itamar Bengbir, who oversees the prison, said it would push through a plan to tighten conditions for Palestinian detainees held in Israeli prisons.
He claimed the recent rocket attack was due to an Israeli prison's decision to close two makeshift bakeries run by Palestinian militants, calling them part of an unfair "benefits" received by "terrorists."
"The firing in Gaza will not undermine my resolve to continue working to change the environment in the summer camps of murderous terrorists," the minister said.
An Israeli prison said the troubles began Friday when dozens of Palestinian prisoners were placed in solitary confinement after celebrating a deadly Palestinian attack outside a synagogue in East Jerusalem.
Earlier this week, US Secretary of State Anthony Blinken completed a tour of the Middle East with no breakthroughs in easing tensions between Israel and the Palestinians.
Blinken said meetings in Israel and the occupied West Bank had heard "deep concerns about the current trajectory" but offered no new US initiatives other than calls for "de-escalation".
Israel's operation on the Jenin refugee camp in one of the deadliest airstrikes in decades in the West Bank last week killed 10 Palestinians, mostly gunmen, but also killed two civilians, including a 61-year-old woman. The next day, Palestinian gunmen killed seven Israelis outside a synagogue in East Jerusalem in the worst attack in recent memory.
Escalating tensions have led to retaliatory strikes, including shootings targeting Israelis and Palestinians, killing nearly 24 people over the past week.
Agence France-Presse, Reuters and Associated Press contributed to this report.
[ad_2]