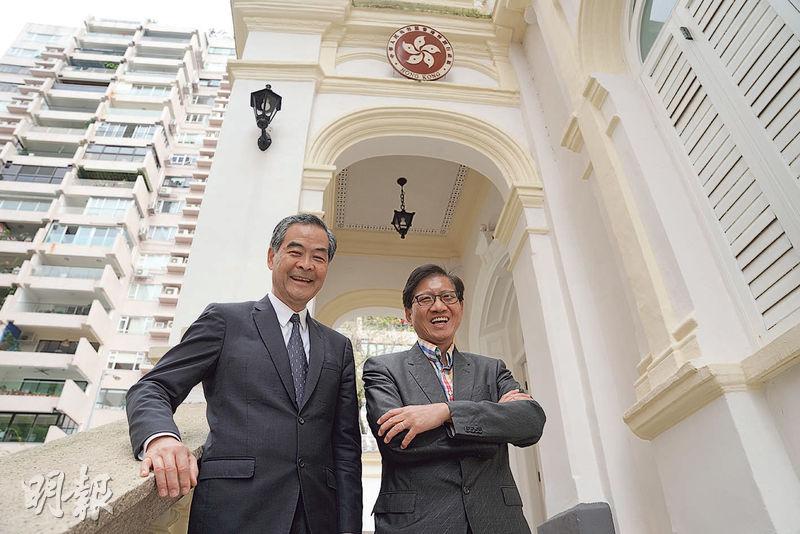 Liang served as a consultant to help Hainan build a free trade port
The Qiong-Hong Kong Economic Cooperation and Development Advisory Committee, which Leung Chun-ying serves as a consultant, is a permanent consultation mechanism established in the name of the Hainan Provincial Political Consultative Conference in 2021. It consists of 9 professional groups, and Hong Kong experts from different groups will make policy recommendations to the Hainan Provincial Government to assist Hainan establishes a free trade port. Under Leung Chun-ying's suggestion, Hainan Province set up the "Hainan International Economic Development Bureau" and appointed Ye Zeen, the former vice president of the Trade Development Council, as the chief representative of the Hong Kong office to attract investment for Hainan Province.
means to compete with Hong Kong
It is not the first time that the relationship of "competition and cooperation" is
Leung Chun-ying and Ye Zeen were interviewed by this newspaper. Leung Chun-ying pointed out that after the establishment of the Hainan Free Trade Port, it will become the world's largest zero-tariff free trade port with unlimited potential. He said that the Hainan Free Trade Port will pose competition to Hong Kong, but he believes that Hong Kong and the mainland have long had a relationship of both competition and cooperation. The Hainan Free Trade Port is not the first time. In the 1980s, Hong Kong's manufacturing industry moved northward to Shenzhen. At that time, there were discussions about the "hollowing out" of Hong Kong's industries. In the end, Hong Kong's products were transformed and upgraded in the Mainland, from Made in Hong Kong to Made by Hong Kong. "Hong Kong is not without manufacturing. Hong Kong's products are so big in the mainland." Liang pointed out that Hong Kong has broken through the geographical space constraints, and many manufacturers have also transformed into large-scale enterprises with huge output value, such as Kingboard Chemicals.
Leung Chun-ying said that the establishment of a free trade port in Hainan Province is an inevitable development. Even if the Hong Kong industry does not participate, it cannot change the fact. He believes that Hong Kong's geographical space is limited, only 1,100 square kilometers, regardless of the development of retail tourism trade.
Leung said that Hong Kong brands have great competitiveness in the mainland, and Hong Kong is also a trend indicator in the mainland. "Mainlanders have confidence in Hong Kong brands. They come to Hong Kong to buy cosmetics, handbags, jewelry and watches, which are not Hong Kong products; even mainland products They will come to Hong Kong to buy expensive Chinese medicines and seafood." He believes that this kind of brand reputation is the strength of Hong Kong, which can be extended to the Hainan Free Trade Port, and the Hong Kong brand will be further developed from Sold in Hong Kong to Sold by Hong Kong. "We need a market space outside Hong Kong. This is Hainan." Products sold in Hong Kong are sold in Hainan, extending Hong Kong's retail industry to Hainan, and a large amount of consumption will also boost Hainan's international trade status.
Said it was not sharing Hong Kong tourists "doing the same business accidentally"
He said that Hong Kong's trade is three times that of Hong Kong's GDP, and most of it is offshore trade. There are 100,000 trading companies in Hong Kong, employing 400,000 employees. Hong Kong is the largest buyer of Japanese food. Hong Kong buys a large amount of Indian diamonds, French Italian luxury goods, Korean and Japanese cosmetics suppliers all value Hong Kong very much. He believes that Hong Kong can expand its retail business to Hainan while retaining its advantages. Taking advantage of Hainan's tax-free advantages, it can sell to tourists from the mainland or ASEAN in Hainan. If retail becomes bigger, international trade can develop, and Hong Kong can expand further. trade services. He emphasized that this is not to share the tourists from Hong Kong, but to "do the same business overseas".
Ye Zeen: After electronic customs clearance, resale to the mainland is subject to taxation
Ye Zeen said that Hainan Province plans to adopt "electronic customs clearance" on January 1, 2025. At that time, all products can enter Hainan with zero tariffs. However, if Hainan products want to enter the mainland, they will be subject to mainland tariffs like other international commodities. He also revealed that another major initiative of Hainan Province is to simplify the tax system, merging the five original taxes including value-added tax, and only collecting consumption tax, but the tax rate has not yet been determined. Leung Chun-ying believes that in the face of competition from mainland cities such as Hainan, Hong Kong people need to understand the development trend of their competitors and "know where to go". He revealed that the Hong Kong industry reacted very positively to entering the Hainan Free Trade Port, showing that the establishment of the Free Trade Port is beneficial to them.
Legit News 247reporter