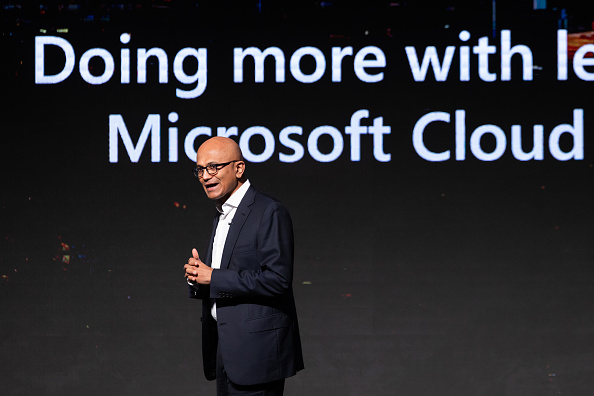 Microsoft (NASDAQ:MSFT) CEO Satya Nadella wasted little time Tuesday laying out the software titan's new philosophy behind the push for artificial intelligence technology.
Speaking on a conference call to discuss Microsoft (MSFT)) in fiscal second quarter results, Nadella said the company's emphasis on AI is "changing [business] Customers who want to optimize their spending on technology in a "given environment" [ongoing] Economic uncertainty." Nadella said market realities affected Microsoft.MSFT) own priorities.
"Best [business] Value is created while markets are changing," said Nadella. "We are well positioned to seize opportunities in AI used by customers like OpenAI."
Nadella's remarks come a day after Microsoft (MSFT) confirmed a "multi-year, multi-billion dollar" investment in ChatGPT developer OpenAI. Microsoft (MSFT) has not disclosed the exact amount of its investment, but has pegged it at $10 billion in various reports.
Last week Microsoft (MSFT) said it would begin integrating ChatGPT into its Azure cloud service offerings. On Tuesday, Nadella said Microsoft (MSFT) has already moved more than 200 customers to Azure with AI.
As far as expanding the role of AI beyond Azure, Nadella has no doubts about where Microsoft (MSFT) will take the technology.
"We fundamentally believe that the next wave of platforms will be AI," said Nadella. "[With AI] The core of cloud computing is fundamentally changing. We expect to integrate AI into everything. [Microsoft technology] stack."
CFO Amy Hood took a look at how Microsoft (MSFT) expects its business to evolve in its fiscal third quarter. Hood did not provide accurate earnings-per-share or earnings forecasts, and she said that Microsoft (MSFT) expects foreign currency exchange rates to cause "a three-point decline in earnings."
Last week Microsoft (MSFT) said it would lay off 10,000 employees worldwide and pay $1.2 billion in costs related to the cuts.