Eat, Drink, Gather seems to be the tagline of BKC's newly launched modern European bar and kitchen, The Burrow. Upscale neighborhoods with clean lanes, upscale corporate office buildings, drive-in theaters and lavish mangers are inviting and soothing. When I got the chance to check out this cafe, I was very excited.
The Burrow differentiates itself with a pre-prepared, single-portion menu that introduces an all-day dining concept. Conceived and founded by chef Yashasvi Modi and her father, Anil Modi as co-founders, the restaurant's name is consistent with its location, which offers solitude to enjoy a good time away from the noise of the city. do. , more than drinks and food.
The interior presents a spacious and inviting place with stone walls and wooden elements. The 2- and 4-seat layouts are attractive, with a semi-circular sofa for 6 and a view of the display kitchen elsewhere. We found Yashasvi, the owner chef, busy plating dishes before they arrived at our table.
New England Seafood Chowder |
The Private Dining Room (PDR) is designed to present the working lunch concept. Set menus with wine or beer pairings are designed to satisfy your gastronomic cravings. The interior captures both the spirit of a European bistro and oysters that give a hug with a cheerful and welcoming air.
Having worked at five-star hotels such as Jaipur's Ram Baug Palace, Chef Yashasvi has realized that her specialty is European cuisine, and her forte is in creating uniquely flavored sauces, which has expanded to the menu. The menu is limited but centers around the delicious sauces and dips that accompany each dish.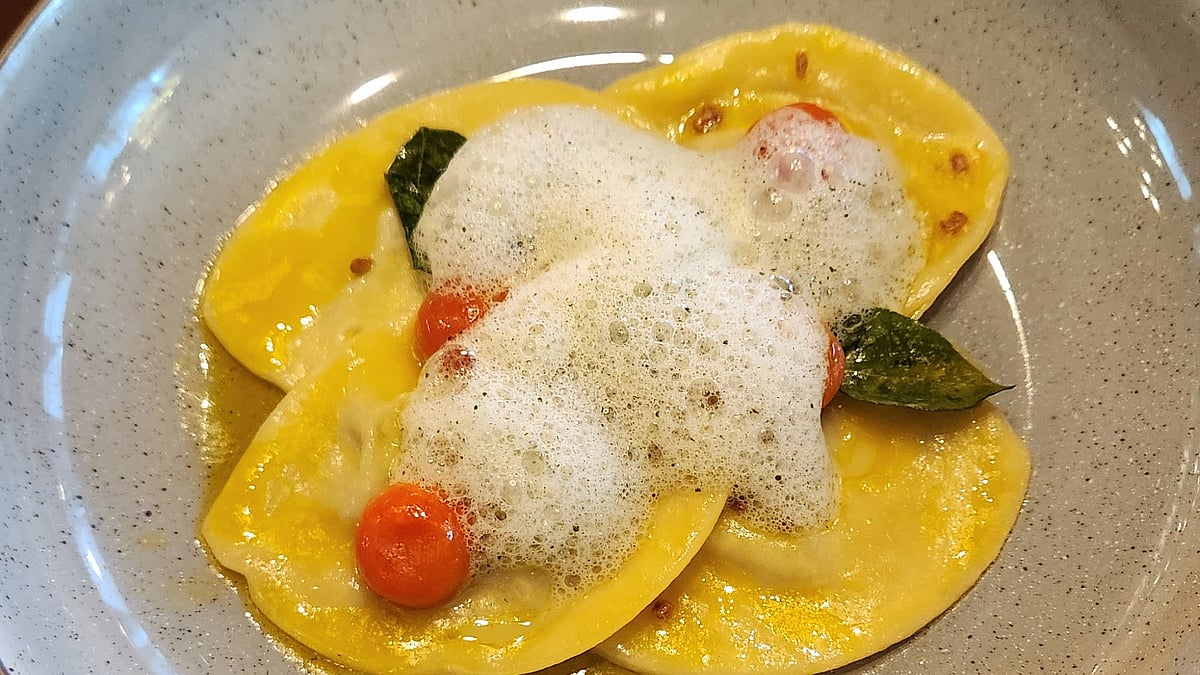 Pumpkin Ravioli |
The menu of continental cuisine includes, but is not limited to, old classics such as artisanal pastas, upscale tacos, and sliders. Each dish is cleverly crafted so that the accompanying sauce/dip is a palate hero. The in-house hot sauce is served with Mozarella Sticks or Chicken Popcorn and is crispy and perfectly seasoned to pair with the dip. We tried the Loaded Nachos, served with uncooked pico de gallo, refried beans, and an in-house cheese sauce. Aji pepper sauce served with Beria Colocasia tacos with soft taco shells and crispy Colocasia chips.
Spinach & Feta Cheese Periossis |
The bar at The Burrow serves classic and contemporary cocktails in a lively precinct. The menu boasts unique handcrafted beverages that enhance the experience through an eclectic mix of aesthetics. Cocktails are curated with personal Burrow twists such as the Seville Sunset, a gin-based drink with orange, fennel, oolong, lime, almond fat wash, red wine float and gin foam or Pisco Sour made with Peruvian brandy. , Sazerac with lime, sugar, egg whites, and bitters or cognac.
Main dishes include dishes such as grilled fish, orange and chili sauce, and pom purée, a signature dish of red sea bream fillet, herb-flavored orange and chili sauce, pickled chili and potato puree. We went with Pumpkin Ravioli and spinach and Feta Pierogis, which are delicious Polish dumplings. The lasagna was rich, creamy and loaded with veggies. We topped off our lunch with warm, delicious skillet cookies and chunks of ice cream.
Burrow Bar |
Weekly Chef Specials are on the anvil to highlight the preparations created by the individual chefs on the kitchen team. Boasting a happy atmosphere, delicious food and a charming atmosphere, The Burrow has the right facilities to unwind with friends after a hard day's work!
Average cost for 2 people: `1500 (excluding alcoholic beverages)
(If you have a story in and around Mumbai, be one of our listening citizen journalists and send it here.)
(Click here to receive electronic documents on WhatsApp daily. Click here to receive electronic documents on Telegram. Allow PDF sharing of documents on WhatsApp and other social media platforms.)